The Tone You Crave,
The Performance You Trust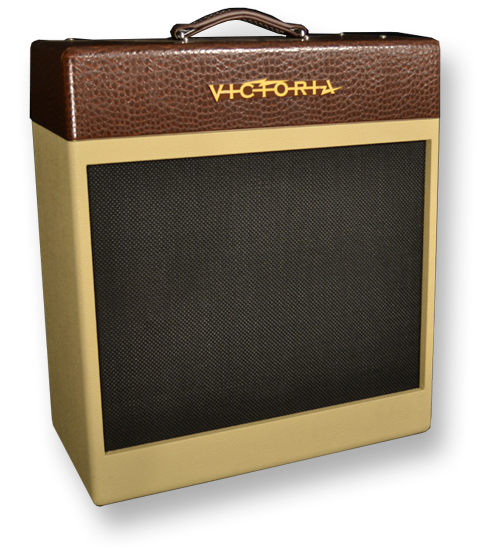 USA BUILT • LIFETIME WARRANTY
Victoria Reverberato
You'll never want to turn this thing off.
The Victoria Reverberato is our take on a classic Fender-style reverb tank with vibrato included. The reverb circuit is based on '65 Blackface Twin reverb, while the vibrato circuit is derived from a '63 Brownface Concert.
These things aren't easy to make, they are easily the most labor-intensive product in the Victoria line. You'll immediately see why once you plug one of these into your signal chain. The reverb can be subtle, filling out your tone or bringing it to an authentic surf-rock soaked 'verb with a turn of the dial.
The harmonic vibrato circuit creates greasy, lush tones that will make you never want to turn this thing off.
Welcome to Victoria Amplifier!
Victoria Amplifier company isn't built on shortcuts, but finding the long path to the best tones your guitar amp can possibly produce.
This philosophy has led our amps to the hands of some of the world's most influential musicians, best guitar shops, and a loyal fanbase of dedicated users.
We continue to excel past our competitors in terms of tone, build quality, and reliability.
Superior Parts
All components are sourced from the finest manufacturers available. USA made resistors, capacitors, transformers, wire, switches, jacks to name a few. Even NOS tubes are used regularly to insure best performance in critical positions.
Superior Craftsmanship
Each Victoria Amp is handcrafted, one at at a time. Thorough "burn in" and performance testing insure a lifetime of trouble free operation. Every vacuum tube is hand selected and rigorously tested for defects before the tube shields go on!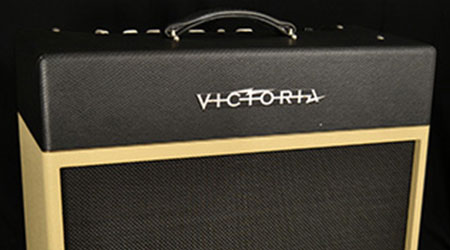 Superior Tone
A Victoria Amp is an instrument that will compliment your finest guitars. We simply have the most musical and dimensional tone in the industry. But don't take our word for it, just ask a player who owns one.
ARTISTS
Our amplifiers are In the hands of some of the world's premier musicians, not because we pay them to use them, because they know our amps have the tone they crave.
Found in recording studios all over the world, our amps are superior to any other low-powered recording amp on the market.
What kind of tubes can I run in the Regal and what power will they produce?
Auditioning tubes in the Regal is as easy as unplugging one and replacing it with another. Just BE CAREFUL when orienting the tube in the socket. Using a tube with a broken or worn key can damage things.
You may use a 6V6 and a 6L6 at the same time. Or a single 6V6. Or a single EL34. Or a KT66 and a EL-34…you get the idea. The rectifier tube may also be used to vary the wattage and performance. A 5Y3 (NOS only) will produce the lowest overall voltage resulting in lower wattage. A GZ34 will produce the highest operating voltage available and will give you more power and snap. 5V4 and 5U4 will producing intermediate voltages.
lowest power = 1 NOS 5Y3 and a single 6V6 (in either socket, they are identical)
highest power = GZ34 and 2 6L6GC (or EL34)
Any combination in between is a lifetime of tube rolling!
My amplifiers speaker sounds like it is breaking up, it sounds muddy and crunchy, not smooth or creamy. Chords do not ring harmonically clear. Do you have any suggestions on how I can improve this?
Tubes and speakers play a critical role in shaping the amps performance. Try a couple different brands of 12AX7 in the V1 position. Many guys will use an NOS tube here. The V1 is the most prominent in influencing the amps tone. Power tubes and speakers are obviously important too. Always use matched tubes in the power section. Speakers are more of a pain in the rear to swap out, but they will play a big role too. If you can, try swapping a couple different cabs with the chassis to see if it makes a difference.
What is the difference in tone and feel between the 6L6 and EL84 Victoriette amplifier?
The main difference is in the way the amp acts when driven into clipping. The EL-84 will compress sooner and impart a mid rangy sizzle while the 6L6 will have a grainier overdrive with more prominent lower mid content. The 6L6 is fuller, the EL-84 is more aggressive/creamy. The clean tones are very similar; all tubes will impart their own vibe, each 6L6 and EL-84 type will be individual, but generally the EL-84 will be brighter, with less headroom.
Having said THAT, we no longer make many 6L6 Victoriettes..we recommend the 6L6 in the bigger (40W) Victorilux, which is the same AB763 circuit as the V-ette with more gas in the power section. I feel that our Victoriette is best represented with 6V6's, which kinda combine the attributes of the 6L6 and the EL-84. They distort fairly easily, have a rich lower mid response, and also have a tight singing top end–without the sizzle and buzziness of the EL-84..So they have the top end extension of the 84 and the low end richness of the 6L6, without the buzzy compression of the EL-84.